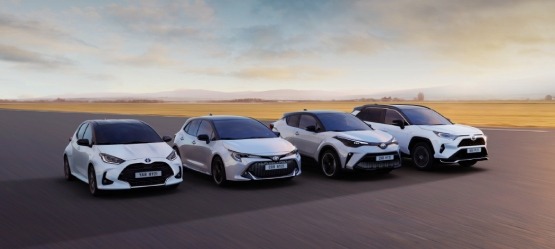 Toyota Hybrid Cars
Hybrid cars are a specific type of electric car that combine a conventional petrol or diesel engine with an electric motor.
Although this type of electric vehicle is not 100% emission free, hybrid's do emit less CO2 than a traditional petrol or diesel car and consume less fuel making them much more economical to own.
Benefits of Toyota hybrid cars
No range anxiety – range anxiety is associated with electric vehicles that run purely from an electric motor. Once this charge has been used, there is no reserve like there is with a hybrid model. Hybrid models eliminate range anxiety by having a petrol or diesel reserve to rely on.
Low emissions – although hybrid cars utilise a conventional engine so are not zero emissions, they are still low emission vehicles as they utilise electric energy, especially in city environments.
Economical – because hybrid cars utilise electric power at low speeds such as driving in city environments, you don't need to utilise your petrol or diesel reserve, meaning your driving costs are much less than they would be with a conventional engine.
Who would benefit from a hybrid car
There's two ends to the spectrum of who would benefit most from a hybrid car. Firstly, those making regular short trips in city environments where you will generally be travelling at much lower speeds can benefit from the electric motor, with the fuel reserve kicking in when speeds increase.
Then there's those who will be travelling further afield, perhaps on a weekend, where you want to take advantage of the conventional fuel engine, rather than
How do Toyota hybrid cars work
Toyota utilises hybrid technology that allows the car to be powered by the conventional petrol or diesel engine, purely by the electric motor or by a combination of the two.
When travelling at low speeds, the car will utilise just the electric motor, meaning city driving is extremely economical and offers low emission driving.
At higher speeds or when the car must accelerate quickly, the petrol or diesel engine will kick in to provide the power needed.
Toyota hybrid cars
If you think a Hybrid car might fit well into your life, the Toyota Hybrid range is incredibly diverse with something for every requirement. Current Toyota Hybrids include:
Toyota Yaris
Toyota C-HR
Toyota RAV4
Toyota Prius
Toyota Corolla
Toyota Yaris
The Toyota Yaris is considered a compact car, but despite that, it has a lot of space for both the driver and their passengers. The style fits seamlessly into almost any city environment but can also cope well on weekend adventures. The Toyota Hybrid has also been crowed as AutoCar's Car of the Year 2021.
Interior
First up, there's 5 seats which means there's plenty of room for the driver and their passengers to travel comfortably, and even car share when commuting to work.
There's plenty of storage space to keep your belongings away from your seating area, with 2 coat hooks in the rear and cup holders in the front.
When travelling with young children, there's ISOFIX points in the rear so you can fix car seats securely.
Exterior
The exterior of the Yaris is stylish, with a black lower front and back grille, black rear bumper and gloss black side air vents.
As standard, there's 16" Silver alloy wheels (10 spoke) making the Yaris really stand out from the crowd.
Technology
There's certainly no shortage of technology and safety features, even in a compact package like the Yaris. The MyT App lets you manage your Toyota from your smartphone, allowing you to book services and plan your journey from your fingertips.
With a rear reversing camera, this makes it easy to navigate tight spaces, keeping those around you safe and prevent any unwanted bumps.
Inside the cabin, you'll find a Toyota Touch 2 Multimedia System, 4 speakers, Bluetooth Connectivity and USB connectivity so you can stay connected and entertained during your journey.
As with any Toyota, there's a whole host of safety features including:
Pre-collision System with Pedestrian and Cyclist Detection
Road Sign Assist
Emergency Brake Light Signal
Driver Attention Alert
Vehicle Stability Control
Toyota C-HR
The Toyota C-HR is an incredibly sporty model with rugged lines and great performance. The design is stylish and is sure to turn heads, whatever environment you are in.
Interior
To ensure your passengers have plenty of space to sit back and relax, there's a wide range of storage options, keeping all belongings and luggage away from the cabin space. Storage options include driver & passengers seatback pockets, front cup holders, shopping bag hooks and hooks for luggage holding net.
For the comfort of the driver and front passenger, there's heated front seats for additional comfort.
Exterior
The exterior is nothing short of stylish and sporty, with 19" Black alloy wheels (5 double spoke) and privacy glass on the rear windows.
There's also additional sporty features which really finish off the look of the C-HR, including tinted headlights, a shark-fin antenna, GR Sports badging and GR Sport scuff plates.
Technology
Toyota have gone all out on the technology with the C-HR, with a wide range of technology, to not only keep you connected, but also make your life much easier.
If you have a busy family life, there is a boot door release with a push button to free up your hands and allow you to carry your shopping or hobby equipment.
Safety features include:
Road Sign Assist
Adjustable Speed Limited
Lane Departure Alert
Blind Spot Monitor
Glass-breaking alarm sensor
Toyota RAV4
If you need something that is rugged, stands out from the crowd and has more than enough space for everyone, the Toyota RAV4 should be on your radar.
Interior
This SUV is a 5 seater model and the cabin area looks more like a cockpit with all of the features and technology. The style from the exterior definitely comes through to the interior, with leather seats for added comfort and plenty of storage options to keep your belongings away from the passenger space.
These storage options include a 1.5 litre bottle holder, coat hooks, front cup holders, front & rear bottle holders, lockable glovebox and a dual-sided boot floor which can accommodate all of your hobby equipment.
Exterior
Fitting into almost any environment, the RAV4 is both rugged and stylish, so it can switch seamlessly between city driving and rural adventures.
There's 18" Silver alloy wheels (5 spoke), a body coloured spoiler, a shark-fin antenna, privacy glass and a meshed upper front grille.
Toyota Prius
The Toyota Prius is one of the flagship Hybrid models in the Toyota range. It's a great option for those who need enough space for a small family and will likely be commuting on a regular basis. Fitting seamlessly into any city environment, the Prius offers exceptional economy.
Interior
There's 5 seats that can accommodate up to 3 adults in the rear, all offering plenty of leg room and space to manoeuvre.
With a wide range of storage features including a glovebox with single compartment, front & rear door pockets, front & rear bottle holders, front & rear cup holders and rear coat hooks, it means you can keep your belongings and luggage away from the passenger's space.
There's additional touches which make the Toyota Prius more attractive than ever, which include satin chrome side air vent surrounds, chrome inserts on air vents, a fabric armrest, chrome interior door handles and black stitching on steering wheel.
Exterior
As standard there's 17" alloy wheels (5 spoke), a black lower front grille, LED rear light guide, a shark fin antenna and a black pillar design.
The look of the Prius is quite sleek so fits seamlessly into any city environment and the compact nature means it can navigate tight city streets with ease.
Toyota Corolla
The Toyota Corolla comes in three different variants; the hatchback, the touring sports and the saloon, all different cars in their own right, offering different specifications all with the same great features.
Interior
The Corolla hatchback is the smallest model in the Corolla range, offering a 361 litre boot and room for up to 5 adults. There's also two ISOFIX points in the rear which can accommodate two car seats.
If the majority of your journeys are likely to be city driving, the Corolla Hatchback will likely suit your requirements.
The Corolla Touring Sports is incredibly spacious and designed to seamlessly switch between city driving and weekend adventures. The 581 litre boot space allows you to place all of your luggage and bulky items out of sight, leaving more space for passengers to travel comfortably.
The Corolla Saloon is best suited to those who will be commuting regularly and need a spacious car for the family on a weekend. The 471 litre boot space can easily accommodate a medium sized suitcase with room to spare. Designed for executive style travel, the Corolla Saloon is as comfortable on motorways as it is in a busy city environment.
You can expect a touchscreen multimedia system, Bluetooth connectivity, DAB radio, 6 speakers and voice recognition as standard across all Corolla models.
There's plenty of comfort features and stylish features as standard including black stitching on steering wheel, a leather gear shift, fabric armrests and rear armrests.
To keep the driver and your passengers comfortable during journeys, there's dual-zone Automatic air conditioning as standard as well as heated front seats.
Exterior
All Corolla models are stylish and refined, with sleek lines and finishes, with the Toyota stylish coming through at every opportunity.
Across all Corolla models, there's a black upper front grille, body coloured rear bumper, body coloured door mirrors, body coloured door handles and heated door mirrors.
For the final touch, there's 16" alloys as standard, which really add to the look and feel of the exterior styling.
Technology
Across all Corolla models, there's a 7" coloured TFT screen for multi-information display, steering wheel controls and air conditioning ECO mode switch.
There's also plenty of safety features as standard, including adaptive cruise control, lane departure alert, adjustable speed limiter and key reminder warning.
Driver assist features include front and rear parking sensors, reversing camera, pre-collision system with pedestrian and cyclist detection, road sign assist and vehicle stability control.
To keep the driver and their passengers connected at all times, there's Apple CarPlay and Android Auto smartphone integration as standard.
Hybrid Car FAQ
What range can I expect with a hybrid car?
A hybrid car has an electric battery that will recharge during braking or coasting, so you don't need to worry about range like you would with a standard electric car. As with a conventional engine, you can simply refuel as normal when required.
Do hybrid cars need to be charged?
No, hybrid cars are self-charging. The battery is recharged using regenerative braking, meaning when you brake or coast, the energy produced will be stored. This means there is no need to have a charge point fitted at your home.
How long does a Hybrid battery last?
All Toyota hybrid cars are covered by a 10 year warranty or you can extend this to a maximum of 15 years when you opt for the Toyota Hybrid Service. Having an annual service will mean your Toyota is eligible for a further 1 year/10,000m, whichever is soonest, of Hybrid Battery Extended Cover.
Latest News
02-08-2022
7-seater SUVs are becoming more and more popular as families become bigger and…
Read more >
19-07-2022
If you live in and around Dundee or you are visiting the wonderful city of…
Read more >
24-06-2022
Kinnoull Hill Woodland Park If you don't fancy a long drive, Kinnoull Hill…
Read more >