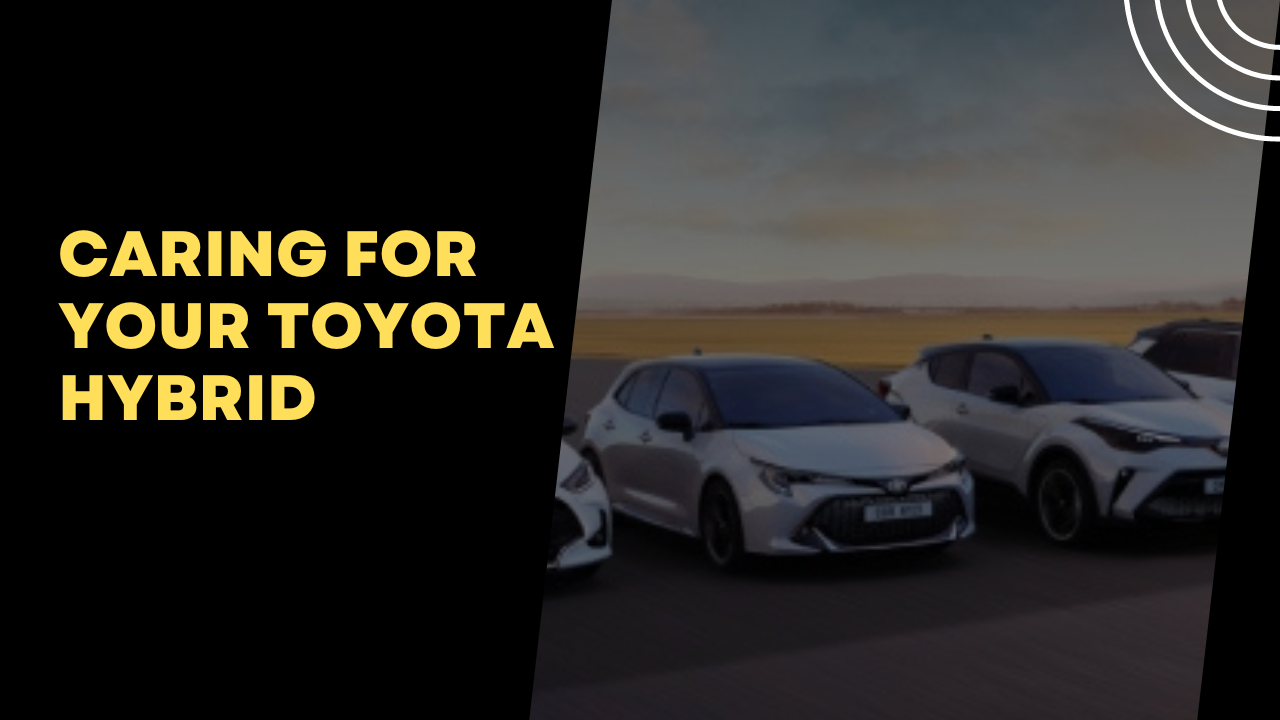 Caring For Your Toyota Hybrid
As the popularity of hybrid vehicles continues to rise, Toyota remains at the forefront of this innovative technology. Toyota hybrids combine the benefits of an electric motor and a traditional internal combustion engine, offering drivers improved fuel efficiency and reduced emissions.
To maximise the longevity and performance of your Toyota hybrid, it's crucial to follow a proper maintenance routine. In this article, we will explore essential tips and expert advice for keeping your Toyota hybrid vehicle in optimal condition.
Toyota Hybrid Maintenance: Essential Tips
Owning a Toyota hybrid vehicle comes with unique maintenance requirements. By following these essential tips, you can ensure that your hybrid runs smoothly and efficiently for years to come.
1. Regularly Monitor Hybrid System
One of the key components of a Toyota hybrid vehicle is its hybrid system, which integrates the electric motor and internal combustion engine. Regularly monitoring the hybrid system's performance is essential for identifying any issues promptly. Keep an eye on the dashboard indicators and consult the vehicle's owner's manual to understand the system's warning lights and their meanings.
2. Maintain Battery Health
The battery is the heart of any hybrid vehicle, providing power to the electric motor. To maintain optimal performance, ensure that your Toyota hybrid's battery is in good health. Follow these tips:
a. Battery Inspections: Schedule regular battery inspections to check for any signs of damage or deterioration. This will help prevent unexpected battery failures.

b. Keep Battery Cool: High temperatures can negatively impact the battery's lifespan. Whenever possible, park your Toyota hybrid in shaded areas to minimise exposure to direct sunlight.
3. Schedule Regular Servicing
Regular servicing is crucial for any vehicle, and Toyota hybrids are no exception. By following the manufacturer's recommended service intervals, you can address minor issues before they become major problems. During servicing, trained technicians can perform necessary checks and maintenance tasks specific to hybrid vehicles.
4. Optimise Tyre Care
Proper tyre care is essential for the overall performance and fuel efficiency of your Toyota hybrid. Consider the following tips to ensure optimal tyre maintenance:
a. Regular Tyre Inspections: Inspect your tyres for any signs of wear and tear. Check the tread depth, look for uneven wear patterns, and ensure that tyre pressure is within the recommended range.

b. Rotate Tyres: Regularly rotate your tyres to promote even wear and extend their lifespan. Refer to your vehicle's owner's manual for recommended rotation intervals.
5. Efficient Driving Habits
Your driving habits play a significant role in the performance and efficiency of your Toyota hybrid. Adopting efficient driving techniques can help maximise fuel economy and reduce wear on the vehicle. Consider the following tips:
a. Smooth Acceleration and Braking: Avoid rapid acceleration and harsh braking, as these actions can strain the hybrid system and reduce fuel efficiency.

b. Plan Ahead: Plan your trips efficiently to minimise unnecessary driving. Combining errands and using navigation systems to find the most efficient routes can help save fuel and reduce wear on the vehicle.
6. Stay Informed with the Owner's Manual
The owner's manual is an invaluable resource for understanding your Toyota hybrid vehicle's maintenance requirements. It provides detailed information on recommended maintenance schedules, troubleshooting tips, and essential operating instructions. Make sure to familiarise yourself with the owner's manual and refer to it whenever you have questions or need guidance on maintaining your Toyota hybrid.
Frequently Asked Questions about Toyota Hybrid Maintenance
Here are some common FAQs about Toyota hybrid maintenance along with their answers:
Q: How often should I service my Toyota hybrid vehicle?

It is recommended to follow the manufacturer's guidelines for service intervals, which typically range from 6,000 to 10,000 miles or every six months. Regular servicing ensures that your vehicle is in optimal condition and helps prevent potential issues.

Q: Can I service my Toyota hybrid at any service center?

While routine maintenance tasks like oil changes and tyre rotations can be performed at most service centers, it is advisable to visit an authorised Toyota service center for hybrid-specific maintenance. These centers have trained technicians who are familiar with hybrid technology and can provide the best care for your vehicle.

Q: How long does a Toyota hybrid battery last?

Toyota hybrid batteries are designed to last for the lifetime of the vehicle. However, factors such as driving conditions and maintenance practices can affect battery longevity. Regular battery inspections and following proper charging and maintenance guidelines will help maximise battery life.

Q: Are hybrid vehicles more expensive to maintain than conventional vehicles?

While hybrid vehicles may have some unique maintenance requirements, they are generally not more expensive to maintain than conventional vehicles. Routine maintenance tasks like oil changes, tyre rotations, and brake inspections are similar to those of traditional vehicles. However, it is essential to follow hybrid-specific maintenance recommendations to ensure optimal performance and efficiency.

Q: Can I perform basic maintenance tasks on my Toyota hybrid myself?

Some basic maintenance tasks like checking tyre pressure, inspecting wiper blades, and topping up fluids can be performed by owners themselves. However, for more complex tasks or hybrid-specific maintenance, it is recommended to consult a trained technician or visit an authorised service center.

Q: How can I improve the fuel efficiency of my Toyota hybrid?

To improve fuel efficiency, follow these tips:

Maintain proper tyre pressure.
Avoid excessive idling.
Remove unnecessary weight from the vehicle.
Drive smoothly and avoid rapid acceleration and harsh braking.
Plan your trips efficiently to minimise unnecessary driving.

Owning a Toyota hybrid vehicle offers numerous benefits, from improved fuel efficiency to reduced emissions. By following the essential maintenance tips outlined in this article, you can ensure that your Toyota hybrid stays in optimal condition for years to come.
Regular monitoring of the hybrid system, battery maintenance, scheduled servicing, proper tyre care, adopting efficient driving habits, and staying informed with the owner's manual are all vital aspects of keeping your Toyota hybrid running smoothly and efficiently.
Remember, proper maintenance not only prolongs the lifespan of your vehicle but also contributes to a greener and more sustainable future. Embrace these tips and enjoy the full potential of your Toyota hybrid.
What Toyota Hybrids are available in the UK
Toyota offers a diverse range of hybrid vehicles, catering to various needs and preferences. Let's explore some of the popular Toyota hybrid models available in the market.
Toyota Corolla Hybrid: The Toyota Corolla Hybrid is a compact hybrid sedan that offers a perfect balance of fuel efficiency, practicality, and affordability. It features a stylish design, advanced safety features, and a comfortable cabin.

Toyota Yaris Hybrid: The Toyota Yaris Hybrid is a compact hatchback that offers agile handling, fuel efficiency, and a stylish design. It is ideal for urban driving and navigating through tight spaces with ease.

Toyota C-HR Hybrid: The Toyota C-HR Hybrid is a distinctive crossover that combines bold styling with hybrid efficiency. It offers a comfortable and well-equipped interior, advanced safety features, and a smooth ride.
If you would like to book a test drive for any of the models listed above, please get in touch with us to arrange.
Latest News