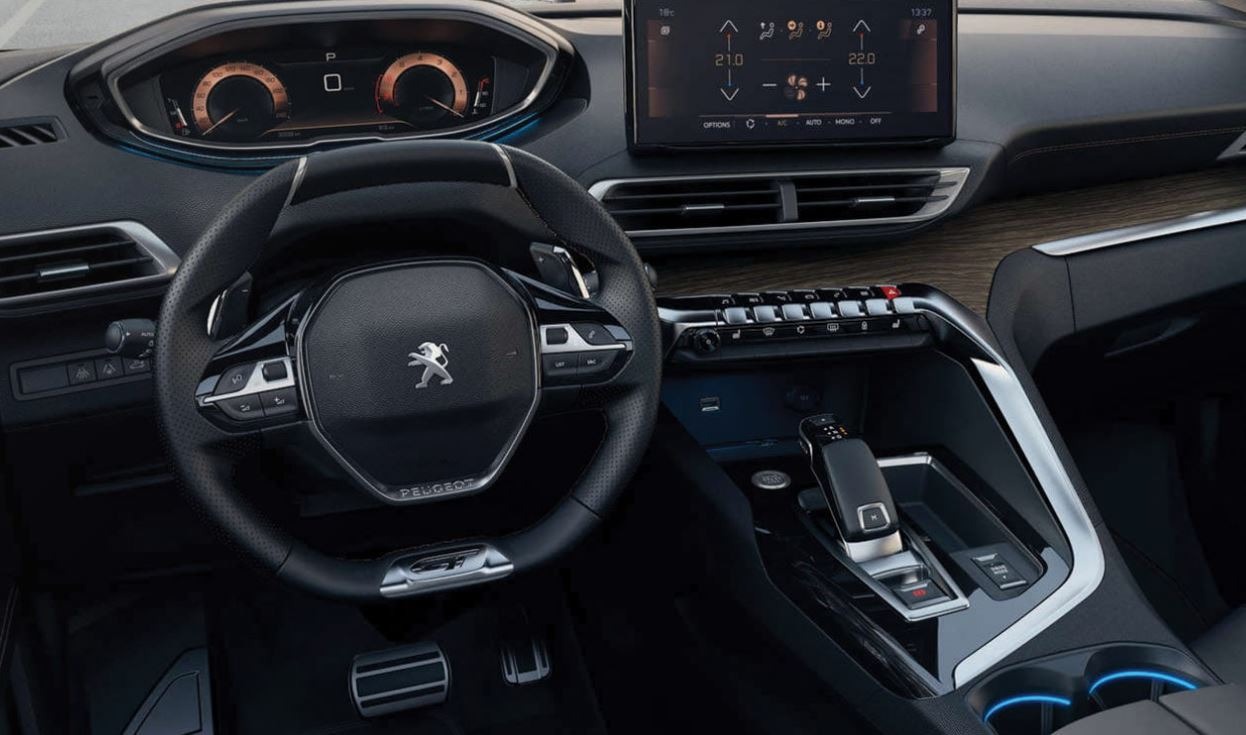 Explore the Peugeot 5008 Interior
The Peugeot 5008 was designed with a sporty style in mind which is apparent from the exterior of the vehicle. For a 7-seater SUV, the Peugeot 5008 does not compromise on style and is not bulky or unsightly like 7-seater SUVs have often been in the past.
Whilst the exterior of the 5008 is clear to see, you might be keen to know what the interior looks like and what technology you can expect.
Centre Console
The Peugeot 5008 centre console is compact and tidy, with a 10" touchscreen that sits neatly on the 12.3" head up display taking centre stage. The head up display is within easy reach for the driver to access without taking their eyes off the road.
Technology
The 10" touchscreen is incredibly responsive and linked to the Connected 3D Navigation that offers real-time traffic directly from TomTom services. This technology also uses voice recognition so you can keep your hands firmly on the steering wheel and your eyes on the road ahead.
Connectivity
To ensure you don't get tempted to check your phone as you're waiting in traffic, you can use the Mirror Screen technology to mirror your smartphone apps onto the touchscreen display.
For those sitting in the rear, there's two USB ports so your passengers can charge mobile devices on the go.
Instrument Panel
Being able to view your driving data is important so you know how your car is performing and thanks to the intuitive instrument display, you can view this information right in your line of sight, without needing to divert your eyes from the road for too long.
Comfort Features
One of the main considerations when deciding what car to purchase next is how comfortable the interior is, especially if you will be taking long trips.
Seats
Available as an optional extra, the seats are electrically adjustable with a massage function and feature AGR (Aktion Gesunder Rucken) technology which is a campaign for healthier backs. This means you can drive for longer without compromising your comfort.
Surround Sound
Depending on the trim level, you can take advantage of premium Hi-Fi sound by Focal, which offers exceptional audio playback of your music and podcasts.
The premium Hi-Fi sound system by Focal offers much clearer playback so you can enjoy a more relaxing drive.
If you think the Peugeot 5008 might be for you, get in touch with your local Peugeot dealer, Struans, and we would be happy to arrange a test drive for you.
Latest News