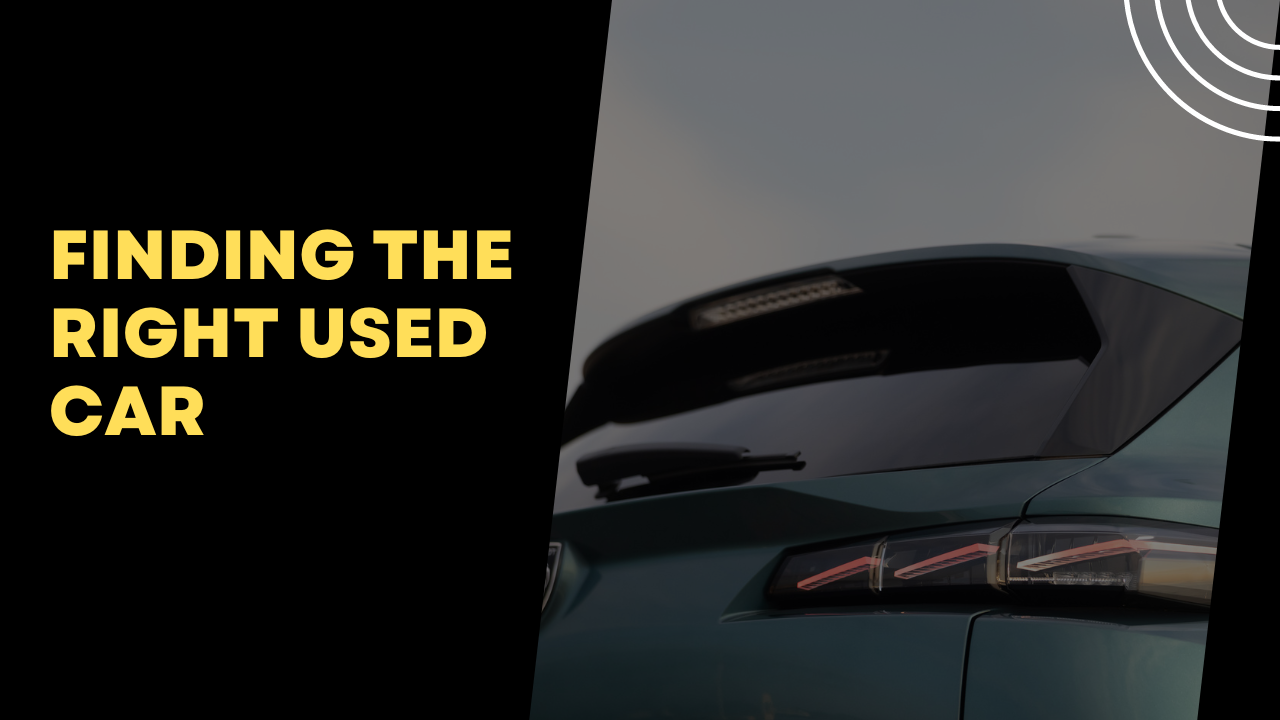 Finding the right Used Car
Buying a used car can be a practical and cost-effective option for many individuals. However, it's essential to approach the process with caution to ensure you make a wise investment. With numerous options available in the used car market, knowing what to look for becomes crucial. In this article, we will explore the key factors to consider when purchasing a used car to help you make an informed decision.
Set a Budget
Before beginning your search for a used car, establish a budget that aligns with your financial capabilities. Consider your income, expenses, and any additional costs associated with car ownership, such as insurance, maintenance, and fuel. Setting a budget will narrow down your options and prevent overspending.
Determine Your Needs
Identify your specific requirements and preferences regarding the type of car you need. Consider factors such as the number of passengers, cargo space, fuel efficiency, safety features, and intended usage. This will help you focus on the models that best meet your needs, saving you time and effort.
Research Reliable Brands and Models
Conduct thorough research on reliable car brands and models known for their durability and longevity. Look for reviews, ratings, and consumer feedback to gain insights into the overall performance and reliability of various car models. Reliable brands often have a strong reputation for quality and tend to have lower maintenance costs.
Check Vehicle History
When purchasing a used car, it's crucial to review its vehicle history report. This report provides essential information about the car's past, including accidents, repairs, mileage, and ownership history. Request the vehicle identification number (VIN) from the seller and obtain the history report from reputable sources to ensure transparency and identify any potential issues.
Conduct a Thorough Inspection
Before finalizing your decision, inspect the used car thoroughly. Check both the interior and exterior for any signs of damage, wear and tear, or mismatched paint. Look for any signs of rust, leaks, or fluid stains under the car. Inspect the tires, brakes, headlights, and other essential components to ensure they are in good working condition.
Test Drive the Car
Test driving a used car is crucial to assess its performance and handling. Take the vehicle for a comprehensive test drive, paying attention to the engine's responsiveness, brakes, steering, and suspension. Listen for any unusual noises or vibrations. Test various features, such as air conditioning, audio system, and other electronics, to ensure they are functioning correctly.
Get a Pre-Purchase Inspection
Consider hiring a trusted mechanic to conduct a pre-purchase inspection of the used car. An experienced mechanic can identify any hidden issues that may not be apparent during your inspection or test drive. They can evaluate the overall condition of the car and provide valuable insights, giving you peace of mind before making your purchase.
Consider Financing Options
If you require financing to purchase the used car, explore your options before finalizing the deal. Compare interest rates, loan terms, and repayment plans from different lenders to secure the most favorable financing arrangement. Remember to factor in the total cost, including the interest and any associated fees, to make an informed decision.
Negotiate the Price
When buying a used car, don't hesitate to negotiate the price. Research the average market value of the specific make, model, and year of the car you are interested in. Use this information to negotiate a fair price with the seller. Be prepared to walk away if the price exceeds your budget or if the seller is unwilling to negotiate.
Consider After-Sales Support
Before making your final decision, consider the availability of after-sales support. Ensure that you have access to a reputable service center or mechanic who can provide maintenance and repair services for the make and model of the car you intend to purchase. This will help you maintain the vehicle's performance and address any future issues.
Buying a used car requires careful consideration and thorough research. By following the guidelines outlined in this article, you can make a well-informed decision and find a used car that meets your needs and budget. Remember to set a budget, conduct research, check the vehicle history, inspect the car thoroughly, and consider financing options before finalizing your purchase. With these steps in mind, you can confidently navigate the used car market and find a reliable vehicle that suits your requirements.
Latest News