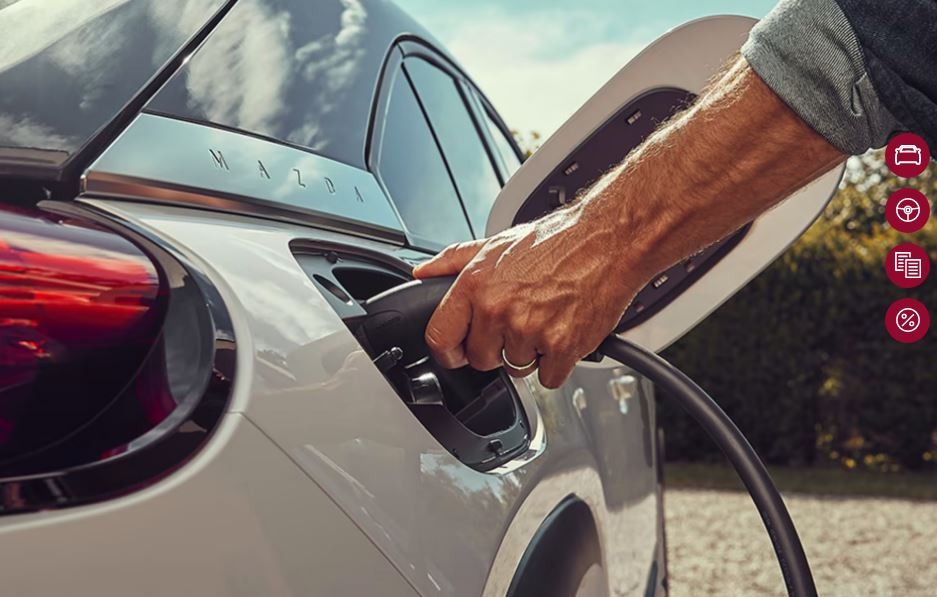 Mazda Electric Car Charge Times
If you're considering purchasing a Mazda electric car or SUV, you will likely be doing a lot of research into which model is best suited to you as well as whether you opt for hybrid or electric.
Hybrid cars mean there is two forms of energy used to power a car - electric energy, plus conventional fuel such as petrol or diesel (eliminates the range anxiety associated with electric cars).
A pure electric car uses electric energy alone which means range anxiety can often be an issue as you don't have a backup energy source to rely on.
This occurs more often on long journeys where you need to factor in a stop to re-charge the vehicle. If you are travelling on a motorway, this is less of an issue as electric charge points can be found at motorway service stations, but in more rural areas, electric charge points are few and far between.
Mazda MX-30
The Mazda MX-30 is a stylish SUV that can be charged to 80% capacity in just 26 minutes using a rapid charger (50kW).
If you opt for an at home wall charger, you can expect a charge time of 3 hours using a 7kW charger.
The MX-30 is incredibly elegant and can be charged at any charging station across the UK, from a supermarket to a service station, so you can work your vehicle charging around your lifestyle rather than be tied down to always searching for a charge point.
With the MyMazda App, you can find a public charge station on the go, as well as remotely lock your vehicle and check the charge status.
What factors can affect charge time?
There are multiple things that can affect the time it takes to charge a vehicle:
Battery Capacity
If the battery capacity is higher, it can hold more charge, so it's a better option for those doing more miles. If you regularly make shorter journeys, having a smaller battery capacity should be sufficient as you don't need a long range.
| | | |
| --- | --- | --- |
| Model | Battery Capacity | Range at 80% Charge |
| Mazda MX-30 | 35.5kW | 99 miles |
Battery Charge
Vehicle charging is fastest between 20% and 80% so if your charge dips below 20%, it can take longer to charge back up.
Outside Temperature
If the outside temperature is cold, it can take longer to re-charge an electric vehicle as more energy is required.
If you would like to take a test drive of one of the Mazda electric vehicles, speak to your local Mazda dealer, Struans, who would be happy to arrange this for you.
Latest News