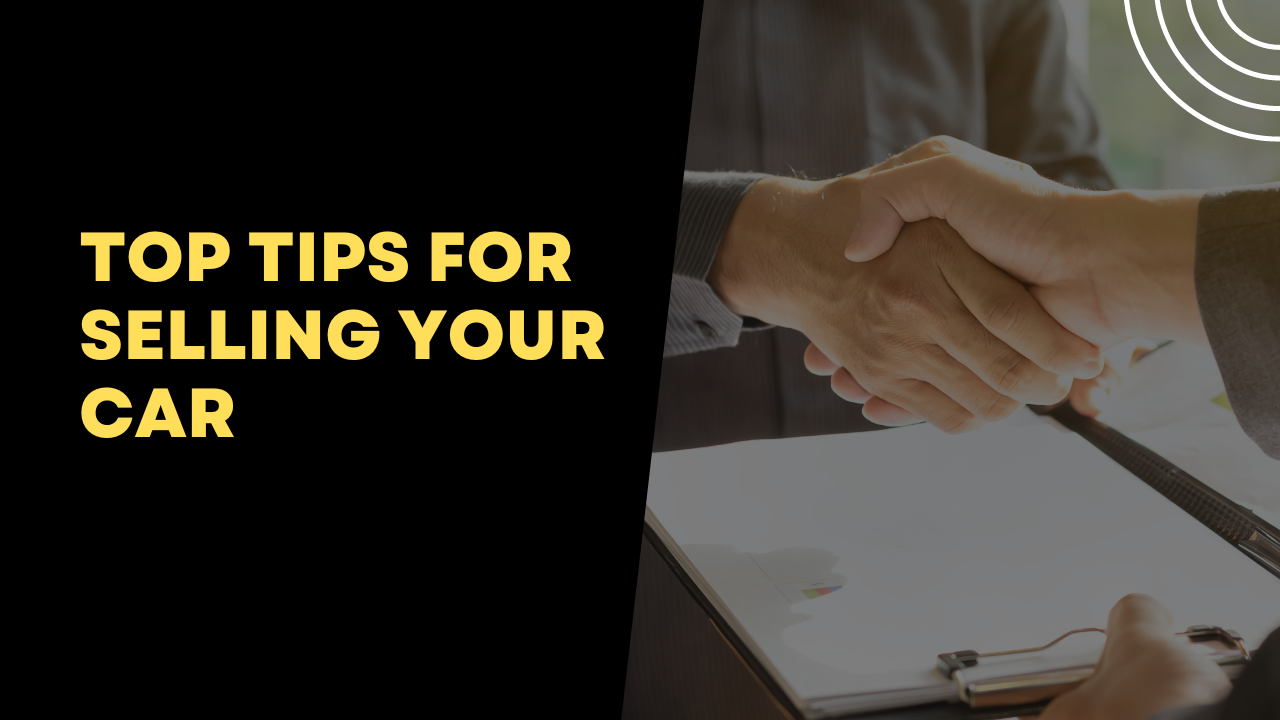 Top Tips For Selling a Used Car
Selling a used car can be a daunting task, especially if it's your first time doing so. But fear not, because with a little bit of preparation and know-how, you can sell your car quickly and easily while getting the best possible price.
From preparing your car for sale to setting the right price, we'll cover everything you need to know to ensure a smooth and successful sale.
When the time comes to sell your current car, whether you are part exchanging it for a newer model, or you just simply don't need a car anymore, there are a few things you should do to prepare your car for sale.
Clean your car inside and out
Cleaning the exterior
Keeping the exterior of your car clean is not just about making it look shiny and new - it's also an important part of maintaining your car's overall health and value. Regularly washing your car can help to remove dirt, grime, and other contaminants that can damage the paint and cause rust.
Park your car in a shady spot. This will help the car dry faster and prevent the sun from fading the paint.
Remove any loose debris from the exterior. This could include leaves, twigs, dirt, and bird droppings.
Wash the car with soap and water. Use a car wash mitt or sponge to apply the soap and water to the car. Rinse the car thoroughly with clean water.
Wax the car. This will help protect the paint from the elements and make it shine.
Thoroughly dry the car. Use a soft, clean towel to dry the car.
Cleaning the interior
Cleaning the interior of your car is just as important as keeping the exterior clean. A clean and tidy interior not only looks great, but it can also improve your driving experience and help maintain the value of your car. In this post, we'll share some tips on how to clean the interior of your car like a pro.
Remove any rubbish from the interior. This could include empty food wrappers, cups, and bottles.
Vacuum the interior. Use a vacuum cleaner to remove dirt, dust, and debris from the seats, carpets, and floor mats.
Clean the dashboard. Use a damp cloth to wipe down the dashboard. Avoid using harsh chemicals, as these could damage the dashboard.
Clean the windows. Use a glass cleaner and a soft cloth to clean the windows.
Clean the seats. Use a mild detergent and water to clean the seats. Be sure to test the detergent in an inconspicuous area first to make sure it doesn't damage the fabric.
Clean the carpets. If the carpets are dirty, you can use a carpet cleaner or a steam cleaner to clean them.
Clean the boot. Remove any rubbish from the boot space and vacuum it. You can also use a disinfectant wipe to clean the trunk.
Repair any light damage
Light damage on a car, such as small scratches or dents, can be unsightly and detract from the overall appearance of the vehicle. However, repairing these types of damages doesn't necessarily require a trip to the auto body shop. In this post, we'll share some tips on how to repair light damage on a car yourself.
Dents
Small dents can often be removed with a plunger. Simply wet the plunger and place it over the dent. Push and pull the plunger until the dent pops out.
Medium dents may require a more specialized tool, such as a dent puller. A dent puller is a metal rod with a suction cup on one end. The suction cup is placed over the dent and the rod is used to pull the dent out.
Large dents will likely need to be repaired by a professional body shop.
Scratches
Light scratches can often be buffed out with a polishing compound. A polishing compound is a cream or liquid that is applied to the scratch with a soft cloth. The polishing compound will remove the scratches and make the paint look new again.
Deep scratches may require sanding and painting. Sanding the scratch will remove the damaged paint and prepare the surface for painting. Painting the scratch will help to protect the paint and prevent it from rusting.
It is important to note that these are just general tips. The best way to repair a dent or scratch on your car will depend on the severity of the damage. If you are not comfortable repairing the damage yourself, you should always consult with a professional body shop.
Service Your Car
A car service is a routine maintenance check-up that is performed on a car at regular intervals. The purpose of a car service is to ensure that the car is in good working order and to prevent any major problems from developing.
A car service typically includes a number of different checks and tasks, such as:
Checking the oil level and oil filter
Checking the tire pressure and condition
Checking the brakes and brake fluid
Checking the battery and charging system
Checking the lights and other electrical components
Checking the engine and other mechanical components
The specific tasks that are performed during a car service will vary depending on the make and model of the car, as well as the age and mileage of the car.
It is important to have your car serviced regularly, even if it is not showing any signs of problems. This is because problems can develop gradually over time, and it is better to catch them early before they cause a major breakdown.
Take good photos
When it comes to selling your car, taking good photos can make all the difference. In fact, it's one of the most important things you can do to attract potential buyers and get the best possible price for your car.
Take photos in good lighting. Natural light is best, but if you have to take photos indoors, use a lightbox or bright lamps to evenly illuminate your car.
Take photos from different angles. Buyers want to see all sides of your car, so take photos from the front, back, sides, and any other angles that show off its features.
Use a tripod. This will help to keep your photos steady and prevent them from being blurry.
Use a high-quality camera. If you don't have a high-quality camera, you can use your phone's camera. Just make sure to use the best settings available.
Edit your photos. Once you've taken your photos, you can edit them to improve their appearance. You can use a photo editing software like Photoshop or Lightroom to adjust the brightness, contrast, and saturation of your photos.
Price it right
Pricing your used car can be a tricky task, but it's important to get it right. If you price it too high, you'll scare away buyers. If you price it too low, you'll lose money.
Here are a few tips on how to price your used car:
Do your research. Before you set a price, take some time to research the market value of your car. You can use online resources like Kelley Blue Book or Edmunds to get an idea of what similar cars are selling for in your area.
Consider the condition of your car. The condition of your car will play a big role in its value. If your car is in good condition, you can command a higher price. If your car has any major problems, you'll need to factor that into the price.
Be realistic. Don't expect to get top dollar for your used car. The market is competitive, and you'll need to be realistic about what your car is worth.
Be flexible. If you're not getting any offers, you may need to be willing to negotiate on price. Be prepared to go down a bit on your asking price in order to make a sale.
If you are ready to sell your car, why not see what used cars we have for sale that you can upgrade to or you can simply value your car using our handy valuation tool.
Latest News