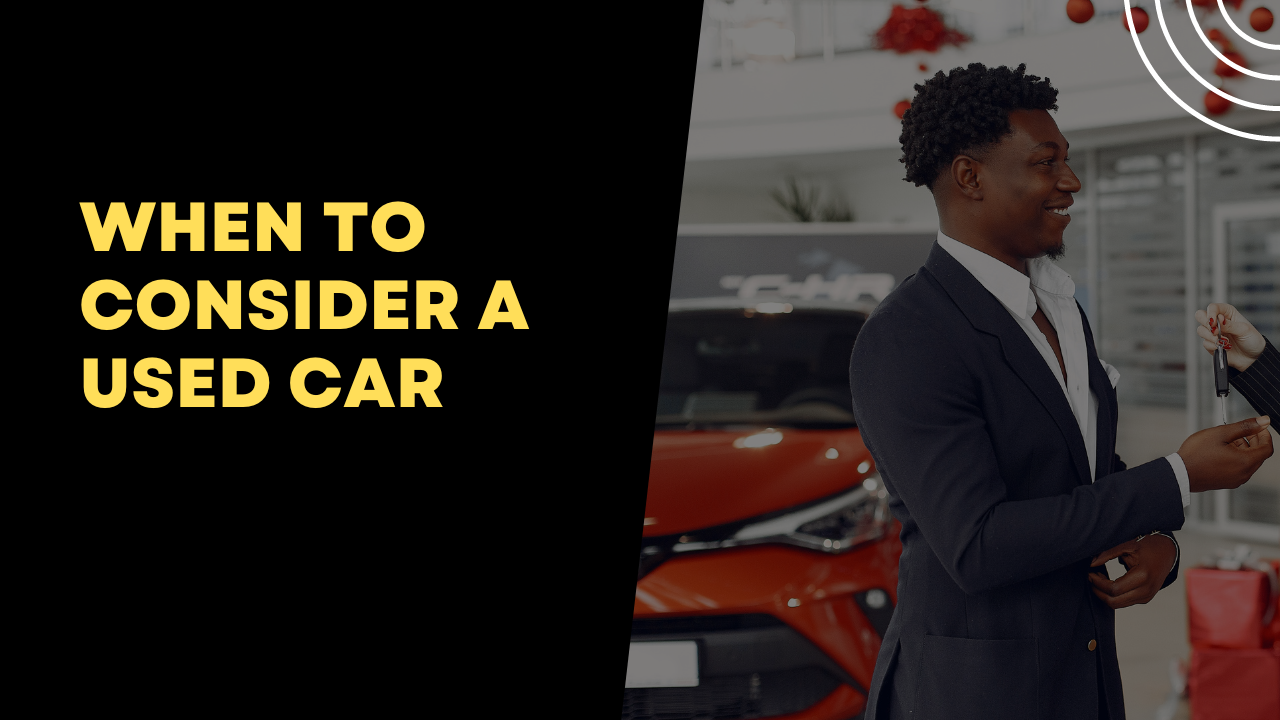 When to consider a used car
If you are planning to buy a car, one of the first decisions you will have to make is whether to go for a brand-new car or a used one. While a new car has its appeal, there are several reasons why a used car might be a better option for you.
In this article, we will discuss the costs, benefits, pros, and cons of buying a used car, to help you make an informed decision.
Table of Contents
Cost Savings
Lower Depreciation
Reduced Insurance Costs
More Car for Your Money
Reduced Registration Fees
Better for the Environment
Certified Pre-Owned Vehicles
Potential Issues with Used Cars
The Need for Repairs
Financing a Used Car
Reduced Technology Features
Safety Concerns
Conclusion
FAQs
Buying a car is a significant financial decision, and choosing between a new or used car is an important consideration. There are several factors to take into account, including your budget, your lifestyle, and your driving needs. In this article, we will discuss the pros and cons of buying a used car and why it may be a better option than a new one.
Cost Savings
One of the most significant advantages of buying a used car is the cost savings. Used cars are generally much cheaper than new ones, with some models being up to 50% less expensive. This means that you can save a lot of money by purchasing a used car instead of a new one.
Lower Depreciation
New cars depreciate rapidly in their first few years, losing as much as 20% of their value as soon as you drive them off the lot. With a used car, the depreciation has already occurred, meaning that you can often sell the car for close to what you paid for it, or even more, if you have taken good care of it.
More Car for Your Money
When you buy a used car, you can often get more car for your money. This means that you can purchase a higher-end model or a car with more features than you would be able to afford if you were buying new.
Certified Pre-Owned Vehicles
Many car dealerships offer certified pre-owned vehicles, which are used cars that have been inspected, refurbished, and certified by the manufacturer. These cars often come with a warranty, which can give you peace of mind when buying a used car.
Potential Issues with Used Cars
While there are many benefits to buying a used car, there are also some potential issues that you should be aware of. These include the possibility of hidden damage or issues that are not immediately apparent, such as accidents, flood damage, or mechanical problems. It is essential to have a trusted mechanic inspect the car before you purchase it to avoid any costly surprises down the line.
The Need for Repairs
Used cars may also require more repairs and maintenance than new cars, especially if they are older or have higher mileage. This can result in additional costs and inconvenience, as you may have to take the car to the mechanic more frequently.
Financing a Used Car
Financing a used car can also be more challenging than financing a new one, as lenders may be hesitant to lend money for an older or higher mileage vehicle. However, there are options available, such as personal loans or credit unions, which can help you finance a used car.
Reduced Technology Features
Used cars may not have the latest technology features or safety advancements found in newer models. This can be a disadvantage if you are looking for a car with the latest safety features, such as backup cameras or lane departure warnings.
Safety Concerns
Safety can be a concern when buying a used car, especially if the car is older or has a history of accidents. However, with proper maintenance and regular safety inspections, you can ensure that your used car is safe to drive.
What is a nearly new car?
A nearly new car is a car that has been driven for a very short period, typically less than a year, and has very low mileage. These cars are often referred to as "demo" cars or "pre-registered" cars, as they are often used by dealerships for test drives or as display vehicles before being sold. They may also be cars that have been leased or rented for a short period and returned to the dealership in excellent condition.
Nearly new cars are often in excellent condition and come with a manufacturer's warranty, similar to a new car. They may also have some of the latest features and technology, but are generally less expensive than a brand new car. Additionally, they often have a lower insurance premium than a new car, as their value has already depreciated to some extent.
When considering a nearly new car, it is important to research the car's history and ensure that it has not been in any accidents or suffered any damage. It is also essential to take the car for a test drive and have a trusted mechanic inspect the car before making a purchase. By doing so, you can ensure that you are getting a quality vehicle at a lower cost than a brand new one.
Buying a used car can be a great way to save money and get more car for your money. With lower costs, reduced depreciation, and lower insurance premiums, a used car can offer many benefits over a new one.
There are also potential issues to consider, such as the need for repairs, financing challenges, and reduced technology features. By taking the time to research your options and choose a reputable dealer or private seller, you can make an informed decision and enjoy the benefits of owning a used car.
Latest News