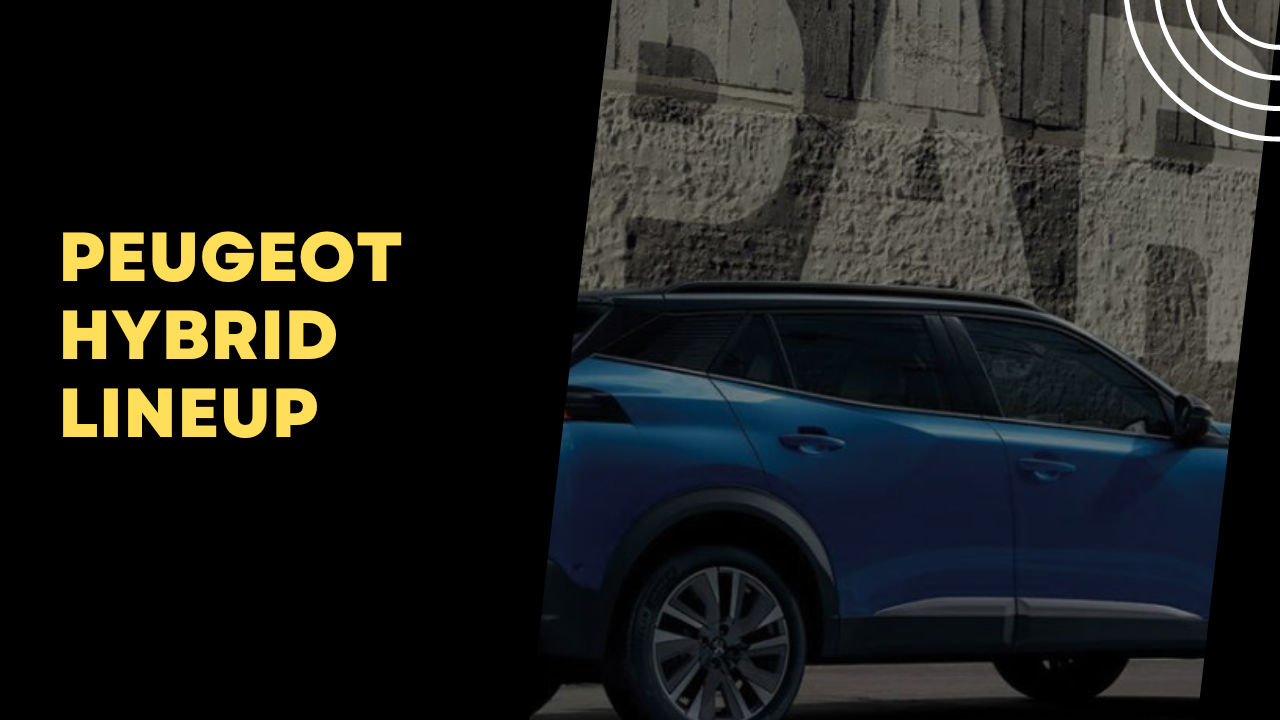 Peugeot Hybrid Models
In today's automotive industry, hybrid vehicles have gained significant traction due to their eco-friendly nature and impressive fuel efficiency. As concerns about the environment and the rising cost of fuel continue to grow, more and more drivers are turning to hybrid models as a sustainable and cost-effective transportation solution. Peugeot, a renowned name in the automotive world, has embraced this trend wholeheartedly, offering a comprehensive lineup of hybrid models that combine the best of both worlds – cutting-edge technology and outstanding performance.
What are hybrid vehicles?
Before delving into Peugeot's exciting range of hybrid models, it is essential to understand what hybrid vehicles are. Hybrid cars are designed to utilise two power sources: an internal combustion engine and an electric motor. This innovative combination allows the vehicle to switch seamlessly between these power sources or even use them in tandem, resulting in reduced emissions and improved fuel efficiency.
The growing popularity of hybrid models
In recent years, hybrid models have gained remarkable popularity across the globe. With increasing environmental awareness and the desire to reduce carbon footprints, consumers are actively seeking vehicles that align with their sustainable values. Hybrid cars offer a compelling proposition by significantly reducing fuel consumption and emissions, making them an ideal choice for eco-conscious drivers. Moreover, the improved charging infrastructure and availability of government incentives further contribute to the rising demand for hybrid vehicles.
Peugeot's commitment to hybrid technology
Recognising the evolving needs of consumers and the demand for greener alternatives, Peugeot has made a steadfast commitment to hybrid technology. The company has invested heavily in research and development, aiming to deliver hybrid models that offer exceptional performance, efficiency, and driving pleasure. Peugeot's relentless pursuit of innovation has enabled them to create a lineup of hybrid vehicles that truly stand out in the market.
Peugeot's lineup of hybrid models
Peugeot's dedication to hybrid technology is evident in their diverse lineup of hybrid models. Let's explore some of their most notable offerings:
Peugeot 3008 Hybrid
The Peugeot 3008 Hybrid is a dynamic SUV that seamlessly combines a petrol engine with an electric motor. With its striking design, spacious interior, and cutting-edge features, the 3008 Hybrid offers a luxurious and eco-friendly driving experience.
Peugeot 508 Hybrid
The Peugeot 508 Hybrid is a sleek and stylish sedan that perfectly blends elegance with efficiency. Equipped with advanced hybrid technology, the 508 Hybrid offers a seamless driving experience, superb comfort, and exceptional fuel economy.
Peugeot 208 Hybrid
The Peugeot 208 Hybrid is a compact and agile hatchback that brings together impressive performance and environmental consciousness. Its hybrid powertrain ensures smooth and efficient driving, making it an ideal choice for urban commuting while reducing carbon emissions.
Peugeot 2008 Hybrid
The Peugeot 2008 Hybrid is a versatile and compact SUV that offers a perfect balance of power and efficiency. With its innovative hybrid technology, the 2008 Hybrid delivers a dynamic driving experience, spacious interior, and remarkable fuel economy, making it an excellent choice for adventurous individuals and families alike.
Peugeot 308 Hybrid
The Peugeot 308 Hybrid is a stylish and compact family car that excels in both performance and sustainability. With its sleek design, advanced technology, and hybrid powertrain, the 308 Hybrid delivers an engaging driving experience while reducing fuel consumption and emissions.
Features and benefits of Peugeot's hybrid models
Peugeot's lineup of hybrid models is not only environmentally friendly but also packed with innovative features and benefits. These include:
Seamless Transition: Peugeot's hybrid models seamlessly switch between the internal combustion engine and the electric motor, providing a smooth and effortless driving experience.

Increased Fuel Efficiency: By utilising electric power during low-speed driving and combining it with the internal combustion engine during high-speed journeys, Peugeot's hybrid models offer exceptional fuel efficiency, reducing the overall cost of ownership.

Reduced Emissions: The integration of electric power significantly reduces the carbon emissions of Peugeot's hybrid models, contributing to a cleaner and greener environment.

Advanced Technology: Peugeot's hybrid models come equipped with cutting-edge technology, including regenerative braking, intelligent energy management systems, and intuitive touchscreen interfaces, enhancing the overall driving experience.

Practicality and Versatility: Peugeot's hybrid models retain their practicality and versatility, offering spacious interiors, comfortable seating, and ample cargo capacity, ensuring they meet the needs of modern families and individuals.
Performance and efficiency
Peugeot's hybrid models are designed to deliver impressive performance without compromising on efficiency. The combination of the internal combustion engine and the electric motor provides instant torque, resulting in responsive acceleration and a dynamic driving experience. Furthermore, the intelligent energy management systems optimise the power distribution, ensuring that energy is utilised efficiently, maximising fuel economy and reducing emissions.
Advanced technology integration
Peugeot's commitment to technological innovation is reflected in their hybrid models. From advanced infotainment systems and connectivity features to driver-assistance technologies, Peugeot ensures that their hybrid vehicles offer a seamless blend of comfort, convenience, and safety. With features like smartphone integration, wireless charging, adaptive cruise control, and lane-keeping assist, Peugeot's hybrid models make every journey more enjoyable and secure.
Sustainability and environmental impact
Peugeot understands the significance of sustainability and aims to minimise the environmental impact of their vehicles. By offering hybrid models, Peugeot provides customers with an eco-friendly alternative that helps reduce greenhouse gas emissions and dependence on fossil fuels. The integration of electric power in Peugeot's hybrid models not only lowers emissions but also contributes to a quieter and cleaner urban environment.
If you are looking to book a test drive of any of the Peugeot Hybrid models, simply get in touch with Struans, your local Peugeot dealer, to arrange.
Latest News